Take a look at our seasonal plantings
When it comes to our plant selection, we move with the seasons. We even sell pumpkins during the fall. Right now, Poinsettias are in season and we supply churches, restaurants, schools, fundraisers, events, and more! Our seasonal plants include:


Mums
Poinsettias
Nursery stock
Bananas
Palm trees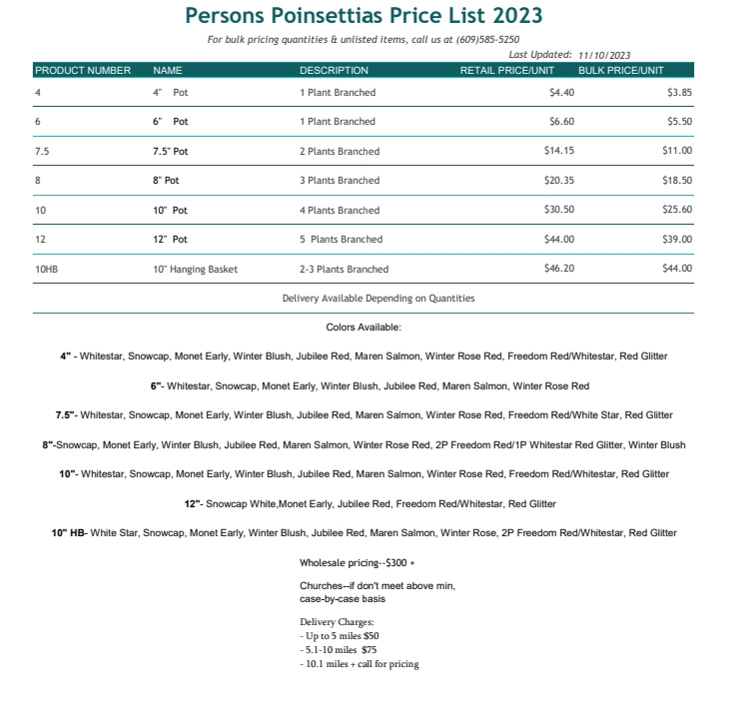 After you've picked out your seasonal plants, don't forget to check out our farm-fresh chickens and pick out some farm-raised chicken and duck eggs!
Contact Us
Shop at our Farmstand for Seasonal Local Vegetables
Stop by our greenhouse in Hamilton Township, NJ
Plants have the ability to spruce up any space. And with a little TLC, they can last for years to come. If you're looking to purchase some plants, visit Persons Farms & Greenhouse. We're a local plant nursery located in Hamilton Township, NJ. Whether you're a beginner or a certified plant-lover, we have something for everyone.

You'll have a wide variety of plants to choose from, including succulents, elephant ears, banana trees, palm trees, tropical plants, and nursery stock. You can learn more by visiting our plant nursery today.